Welcome to the home of FolderMatch, folder comparison and synchronization software for Windows XP/2003/Vista/7,8,10 - 32 & 64 bit



Winner at the

Shareware Industry Awards

for three consecutive years, SIA nominee for the "

Best Overall Application

" & nominee for the

European Epsilon Award

, FolderMatch is a program that compares directories and files, showing the differences clearly.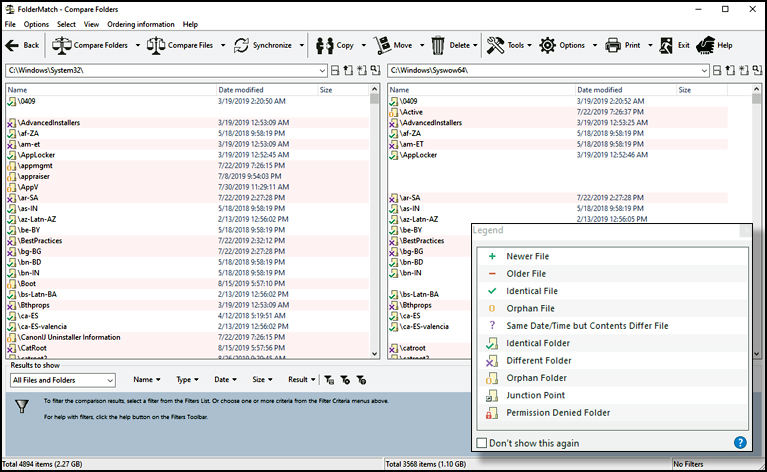 Easily, quickly, and reliably compare and synchronize two folders, two drives, or two computers.
Safely backup photos, emails, contacts, and documents.
See the exact text differences between two text files, Excel spreadsheets, Microsoft Word, Adobe PDF, or Rich Text (RTF) documents.
Find and remove all duplicate files on your machine. Even if their names are different!
Rename multiple files at one time and Much more!
Looking for an automated file synchronization tool? Check out FolderClone

Looking to compare web pages? Check out HTML Match

Looking for a duplicate file finder? Check out Doppelganger.

Looking to synchronize Outlook on two computers? Check out SynchPST.
Save 25% by using coupon code 1Jd4kL2uHs9W
What Users Had To Say
"We are migrating a large amount of source code from one control system (Microsoft Visual SourceSafe) to another (Microsoft Team Foundation) and FolderMatch has been a phenomenal tool to use to make sure that the files all got moved correctly. There is nothing better than seeing a entire directory structure marked with all "green check marks"!!! Thanks for the excellent app!"
Ken C - Agilent Techologies



"I used to work at LapLink where I helped conceive some of the folder cloning capabilities, and so I appreciate all the flexibility that your software provides. Most synchronization programs don't "get it" and bring back unwanted orphans."

Peter R.



This is a fantastic utility! I maintain 2 duplicate sets of files, one on my PC and the other on an in-house network for shop personnel to access.
I used to spend hours in windows explorer checking for missing/outdated files on the network drive.
There are currently 5,000 in each area, and Folder Match finds all discrepancies in about 5 seconds.


I LOVE IT!

Mike A.



"
I do believe your product is worth its weight in gold I just freed up 4.2 Gig of space."
David R.

"Best Program I Ever Downloaded!
This is a MUST HAVE utility. It works perfectly and is VERY easy for the novice to learn. Remember all of those JPG images whose names you changed? No problem, this bad boy will find duplicate files even if they have different names! REALLY! I simply cannot recommend this program enough."
Scott (as posted on CNET)