How do you use FM?
In our contact with FolderMatch users we have seen the program used in quite a variety of ways. We would love to know how you have been using FolderMatch. This information will aid us in knowing which direction future versions should take. It will also help us market FolderMatch to others who perhaps have never thought this could be a useful tool for them.
Please take a moment of your time to write us a brief paragraph with this information. Don't assume that your usage is commonplace and that other users have already written to us with it. We can't stress enough how important this information is to us. Your email will shape the future of Foldermatch!

We thank you again for all of your suggestions. We always love your feedback -- both positive and negative...it will help us be the best!

---
Good News
A portion of your FolderMatch registration fee is being used to sponsor children, or meet another need through one of the following international humanitarian organizations.
World Vision
Feed The Children
Compassion International*
We encourage our visitors to support these fine organizations.

---
FolderMatch has been included in the
101 Greatest XPApps and Utilities CD

"This CD clearly demonstrates the kind of applications that let you do amazing things with Windows XP...

" Beth Goza, Microsoft

"The 101 Greatest XP Apps & Utilities CD is one of the most impressive collections of software I've seen. With tools for graphics, email, the Internet, and more, it's an unbeatable collection. Some of the best programs I've seen are on this CD -- Check it out!" -

Michael E. Callahan (aka) Dr. File Finder (tm)




---
Our other products:
FolderClone
&
FolderClone Professional

FolderClone - Designed for Windows 9x/Me/NT/XP/2000, Windows 7 its purpose is to provide fast, flexible and easy backup, synchronization, replication, and mirroring of important files on all storage media.

A great tool for home users and corporate users alike.

for the web development professional
HTML Match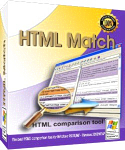 HTML Match - is the best HTML comparison tool for Windows 95/98/ME - Windows 2000/NT/XP available on the Internet today. Use it to analyze the changes between two revisions of an HTML file. The files can be on a local hard drive or can be web pages on the Internet. HTML Match can be used to locate the differences in the program source code, text content or visual aspects of the pages. Differences, down to the individual character level, can be viewed in either a one window composite layout or a two window side-by-side view.
for the control of your intellectual property...
TEXTfromPDF
TEXTfromPDF - is a text extraction tool that allows for the batch processing of Adobe PDF documents. It gives a company access to the text content in PDF documents without requiring any Adobe product. The extracted content is saved to text files where it can be easily searched, archived, repurposed, and managed..
Latest Version
V 3.5.5 was Released February 2011
See Version History page for more information
Your PC's system clock accuracy is very important to the proper functioning of FolderMatch. Files on your PC are time stamped using your system clock. If your system clock is inaccurate, all of the files' time stamps will be wrong too. This can effect the results when you compare the contents of two folders on two different computers. FolderMatch includes a free utility to check and adjust the accuracy of your system clock with one of 15 worldwide atomic time servers.
Most file comparison tools allow you to view the differences between text files. FolderMatch has greatly expanded that functionality by also showing the text differences between MS Word, MS Excel, RTF, and Adobe PDF documents.
Do you know what others are saying?
User comments
Awards & Ratings
---
---
FolderMatch is now being carried by Great Mind Software on Amazon.com
Do you have a web site? Please feel free to take our button
Link to us at www.foldermatch.com.
Old News is still Good News!

Windows & .Net Magazine:



ZDNet TV

RADIO: